Union
Home Stadium
Most Capped Player
Leading Points Scorer
Leading Try Scorer
SRU
Murrayfield
Chris Paterson - 109
Chris Paterson - 809
Smith & Stanger - 24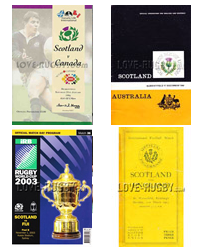 International rugby Union in Scotland can be traced back to 1871 and the first game of rugby played against England. Scotland can also lay claim to being the founders of sevens rugby, with the first known tournament played in Melrose in 1883. With a small playing base Scotland has punched above its weight, enjoying a particularly successful period inthe 180s and 1990s. Scottish regioanl clubs participate in the Celtic League and Europen Cups.
BROWSE SCOTLAND' RECORDS AGAINST OTHER COUNTRIES
FAMOUS GAMES FROM THE PAST
Other Pages
Player Records - View the records for all current and past Scotland players....coming soon.
Famous events - view pages on Scotland's Grand Slams, Triple Crowns and championship wins....coming soon.
I was there - an opportunity for Scotland fans to contribute to the site with their memories of the games they have witnessed....coming soon.



6 Nations match programmes, unused and used match tickets and other rugby match souveniers from the RBS 6 Nations.
September 26, 2023

William Morkel
born 1879
William Hancock
born 1932
William Bowen
died 1925
William Davies
died 2002