Union
Home Stadium
Most Capped Player
Leading Points Scorer
Leading Try Scorer
IRFU
Lansdowne Road
Brian O'Driscoll - 117
Ronan O'Gara - 1075
Brian O'Driscoll - 45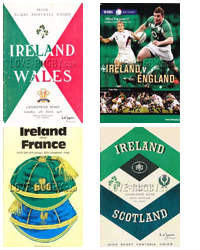 Rugby in Ireland can be traced back to 1854 with the founding of the Dublin Univerity Rugby Football Club. From 1874 to 1879 there were two rugby Unions in Ireland and they alagamated in 1879. The first International game was played against England in 1875. The IRFU own the stadium at Lansdowne Road (currently known as the Aviva Stadium) as well as, among others, Tjomod Park in Limerick and Ravenhill in Belfast. In the amateur era there were originally provincial competitions for the clužbs and an interprovincial competition for the four provinces (Ulster, Munster, Leinster and Connacht).
In the early 1990s an All ireland competition was formed for clubs. The Professional era saw Irish rugby forming 4 professional teams for the provinces while the clubs retained their amateur status.
BROWSE IRELAND'S RECORDS AGAINST OTHER COUNTRIES
FAMOUS GAMES FROM THE PAST
Other Pages
Player Records - View the records for all current and past Ireland players....coming soon.
Famous events - view pages on Ireland's Grand Slams, Triple Crowns and championship wins....coming soon.
I was there - an opportunity for Ireland fans to contribute to the site with their memories of the games they have witnessed....coming soon.



6 Nations match programmes, unused and used match tickets and other rugby match souveniers from the RBS 6 Nations.