Union
Home Stadium
Most Capped Player
Leading Points Scorer
Leading Try Scorer
RFU
Twickenham
Jason Leonard - 114
Johnny Wilkinson - 1179
Rory Underwood - 49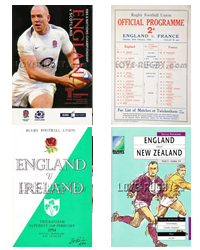 England is often quoted as the home of Rugby Union as it was here that William Webb Ellis allegedly picked up a football and ran with it during a football match in 1823. The RFU was formed in 1871 and England played the first international against Scotland. England enjoys the pargest playing base of any country in the world, and as such they are one of the top nations in World Rugby. In 2003 they became the first team from the Northern Hemisphere to lift the World Cup, bringing to an end a period when they dominated rugby up North. Their clubs play in the European Cups as well as a domestic league.
BROWSE ENGLAND' RECORDS AGAINST OTHER COUNTRIES
FAMOUS GAMES FROM THE PAST
Other Pages
Player Records - View the records for all current and past England players....coming soon.
Famous events - view pages on England's Grand Slams, Triple Crowns and championship wins....coming soon.
I was there - an opportunity for England fans to contribute to the site with their memories of the games they have witnessed....coming soon.



6 Nations match programmes, unused and used match tickets and other rugby match souveniers from the RBS 6 Nations.
December 4, 2023

Vaa Vitale
born 1970
William Cownie
died 1932